The Madras high court judge g r swaminathan has directed the health secretary to pay 2lakh as compensation to a differently abled man from Madurai who was denied the opportunity to study medicine despite scoring well in the National Eligibility-cum-Entrance Test (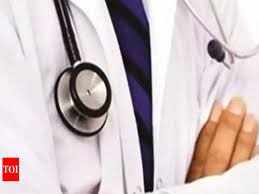 Image used for representational purpose only
CHENNAI: The Madras high court has directed the health secretary to pay 2lakh as compensation to a differently abled man from Madurai who was denied the opportunity to study medicine despite scoring well in the National Eligibility-cum-Entrance Test (
NEET
). The direction came after more than two years of court battle.
G Arunkumar, 27, from Villapuram wrote the entrance test in 2018 and secured a score that was above the cut-off mark for the differently-abled quota. However, he was not given a chance in counselling despite being declared fit and issued a certificate of disability by a regional medical board from Chennai. Arunkumar had lost three of his fingers, including his thumb, after being injured in an accident in 2008.
After his complaint letter to the
Director of Medical Education
 (DME) was not met with a reply, he took the matter to court. As it was argued that the fitness certificate was only valid for 2018, the court ordered him to appear before the board again in 2019. They too declared him fit but he was not called for counselling that year too since he had written the NEET exam in 2018, not 2019.
Arun Kumar then filed another writ petition in 2019 seeking a solution since it was the delay from the government's side that led him to miss counselling in 2019.
The court on January 6 directed the health secretary to pay Arun Kumar 2lakh towards cost for the petitioner. "Since the respondents had unfairly denied medical seat to the petitioner during the academic year 2018-19, the petitioner was constrained to move this court thrice. The petitioner may utilise this amount for payment of coaching fee and I can only wish him good luck in his attempt to make it in the next academic year," observed Justice G R Swaminathan in his order. Arun Kumar is happy to get at least some relief through the court and he hopes that differently abled candidates do not get discriminated any more.