The leaders should have a vision for decriminalisation of politics," a division bench of Justice N Kirubakaran and Justice VM Velumani said.
CITY
Enact law to stop criminals from entering politics: Madras high court to Centre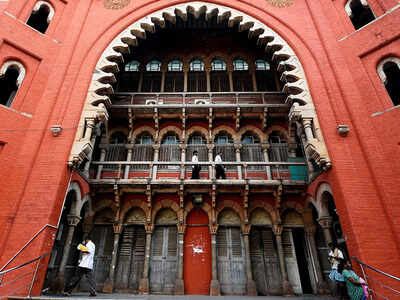 Madras high court
CHENNAI: The Centre should enact a law prohibiting candidates with criminal background from participating in elections, the Madras high court has observed.
"It is reported that persons with criminal backgrounds are becoming policy makers in many parts of the country. It has to be prevented and the system has to be cleansed. This is possible only if the top leaders of political parties are firm in not admitting criminals in their political parties. The leaders should have a vision for decriminalisation of 
politics
," a division bench of Justice N Kirubakaran and Justice VM Velumani said.
Citing a 2019 report of Association for Democratic Reforms (ADR), the court said, "The report reveals that 43% (233 out of 539) of elected MPs are facing criminal cases. Of which 29% (159 MPs) have serious criminal cases pending against them."
Therefore, the central government has to come out with a comprehensive legislation to prohibit persons with criminal background from contesting elections to parliament, state legislatures and local bodies as observed by the Constitutional bench of the Supreme Court in Public Interest Foundation and others Vs Union of India case, the court added. The judges made the observations while hearing a habeas corpus petition challenging detention of Janarthanan under the Puducherry Prevention of Anti-Social Activities Act. According to the detention order, the accused faces 19 criminal cases for alleged offences including murder and attempt to murder.
Recording the same, the court said, it is evident from media reports that criminal elements in Puducherry have close connection and support of political parties. Political parties are having criminals as their members and also office-bearers.
"It is brought to the notice of this court that many cases pending against the detenu are in connection with inter-gang rivalries and in which country made bombs are used to murder opposite gang members," the bench said.
Pointing out the delay in probing the cases, the judges said, this would speak about his clout with political parties, especially ruling parties and police. But for political interference, police would have filed charge sheets, the court added.
"It is appearing in the media that rowdy gangs are operated by many politicians, communal and religious leaders throughout the country. There seems to be a syndicate between the police force, political leaders and rowdy gangs and hence, the safety and security of the people are jeopardised," the court said.
The bench then suo motu impleaded DGP of Puducherry as party respondent and directed to file a report as to the number of such persons accommodated in political parties, and the status of such pending criminal cases in the union