Justice Swaminathan said, adding that the permissible width of the margin will depend on the facts and circumstances of each case. "The media can avail (itself of) this defence whether the complainant is a public official or a private entity. Mere inaccuracies in reporting cannot justify initiation of prosecution."
Netas, corporates using defamation as a tool to intimidate media, says HC
A Subramani | TNN | Updated: May 8, 2020, 03:46 IST+1AA19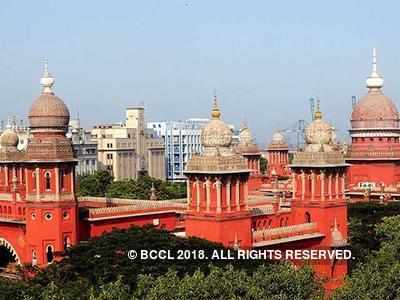 Madras high courtCHENNAI: Powerful politicians and corporate are using defamation cases against media as 'tools of intimidation', and the higher judiciary will not desert its duty when it comes to protection of the fundamental right, said Madras high court.REMOVE ADS
Holding that mere inaccuracies in reporting cannot justify prosecution of media for defamation, Justice G R Swaminathan of the court quashed defamation proceedings initiated against the Economic Times and two journalists, on Tuesday.
Fortifying further the fundamental right to freedom of expression, the judge said: "An activist role will have to be played by the higher judiciary because it is a matter of record that criminal defamation proceedings have become a tool of intimidation before corporate bodies and powerful politicians whose pockets are tunnel deep and whose hands are long even media houses having good resources have capitulated."
There can always be a margin of error, Justice Swaminathan said, adding that the permissible width of the margin will depend on the facts and circumstances of each case. "The media can avail (itself of) this defence whether the complainant is a public official or a private entity. Mere inaccuracies in reporting cannot justify initiation of prosecution."
The defamation case was instituted by V V Minerals taking exception to an article published on July 1, 2015 in the Economic Times. Though it was authored by freelance journalist Sandhya Ravishankar, it named her husband also as an accused, and a magistrate court issued summons for four people, including the Economic Times editor and grievances redressal officer.
Quashing the case, Justice Swaminathan pointed to two inherent errors in the proceedings. One, none of the four lived within the jurisdiction of judicial magistrate-1, Tirunelveli. Rapping the magistrate for issuing the summons without any application of mind, the judge said: "A mere look at the cause title would have revealed that the accused are not residing within the jurisdictional limits of judicial magistrate."
Two, since the accused have not been named in person with appropriate description, the court ought to have returned the defamation complaint itself as defective. "In this case, the trial magistrate appears to have mechanically taken cognizance of the offences even without noting that the grievances redressal officer and the editor of Economic Times have not been named in person at all."
The judge also pointed out that the article was published only in the wake of the notice being issued by the first bench of the Madras high court, on a PIL relating to irregularities in beach sand mining. "When the Hon'ble First Bench thought it fit to issue notice based on the allegations made by a litigant and when it raised a public question, the media is certainly entitled to carry a story on it," said Justice Swaminathan.
The newspaper and the author of the article have shown their bonafides by reaching out Vaikundarajan and publishing his response in the very same article, he said.
Underscoring the role of higher judiciary vis a vis freedom of expression, he said, merely singing paeans to freedom of press is not enough, if one cannot go to its rescue when the its right is faced with a serious threat. "The court can never desert its duty when it comes to protection of fundamental rights."