New law officers for HC Madurai bench
New law officers for HC Madurai bench
Madurai: The state government has appointed new law officers for the Madurai bench of the Madras high court. M Sricharan Rangarajan, who was the special government pleader at the principal seat has been elevated and appointed as the 11th additional advocate general for the Madurai bench.
C Ramesh, K P Krishnadoss, M Muthugeethayan, K P S Palanivelrajan and K P Narayanakumar were appointed as special government pleaders of the bench. Similarly, M Rajarajan, who was the government advocate (civil side), K Sathiya Singh, M Muniasamy and P Mahendran were appointed as additional government pleaders. The services of special government pleaders V R Shanmuganathan, S Nagarajan, R Sethuraman and additional government pleader, Aayiram K Selvakumar at the high court Madurai bench were terminated with immediate effect.
Next Story
MADURAI: A private 
hospital
 in 
Madurai
rolled out a six-stage 
safety programme
using technology to ensure contactless detection of potential carriers of 
coronavirus
, sterilisation of hospital premises and minimal physical contact with patients and visitors.
Meenakshi Mission Hospital and Research Centre (MMHRC) inaugurated Tanjore Air Barrier Technique (TABT) to deliver compressed medical grade air to healthcare professionals in operation theatres through a hood and bluetooth stethoscope.
TABT will let doctors listen to internal organs of the patients without using a stethoscope. This ensures better safety of patients and doctors.
Dr S Gurushankar, chairman, MMHRC, Madurai, said, "The programme is all about creating redundant layers of protection against Covid-19 infection so that inpatients, outpatients, our doctors, paramedical and administrative staff can avail and provide necessary healthcare services without any fear of Covid-19 spread."
The six-stage safety programme makes use of AI and robotics for contactless detection of symptoms in visitors, sterilisation of indoors, contactless check-up and treatment.

The stages of protection include smart security with smart infrared AI helmets to check temperature of visitors remotely, smart fever clinics and smart thermal surveillance cameras that continuously check the temperature of everyone in the premises.
Robots have also been deployed to sterilise the hospital and for periodically supplying food and medicine to patients in their rooms.
Your one-minute Citynews catch up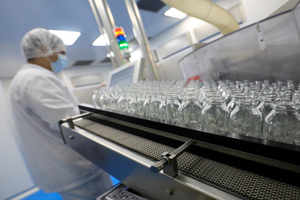 Scientists identify potential drug candidate against Covid-19
Using state-of-the-art computer simulations, scientists including those from the University of Chicago in the US, have identified a preexisting drug—called Ebselen—which is used to treat bipolar disorders, hearing loss etc., that could prevent the novel coronavirus from replicating in host cells, an advance that may lead to a therapeutic solution against Covid-19.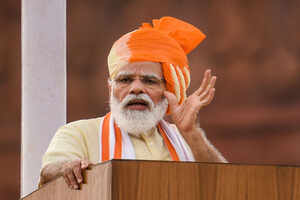 'Rs 100 lakh cr to be spent under National Infrastructure Pipeline'
Addressing the nation on the 74th Independence Day from Red Fort, PM Modi said on Saturday announced that Rs 100 lakh crore will be spent under the National Infrastructure Pipeline Project to boost the sagging economy. The PM said that there is a need to give a new direction to the overall infrastructure development to move India towards modernity at a fast pace.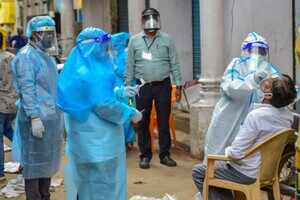 India's Covid-19 count crosses 25 lakhs, death toll at 49,036
The tally rose to 25,26,193, including 6,68,220 active cases, 18,08,937 discharged and migrated, and 49,036 deaths. The number of active cases in Maharashtra, the worst-hit state by the pandemic stands at 1,51,865, while 4,01,442 patients have recovered in the state. The toll due to the disease is presently 19,427 in the state.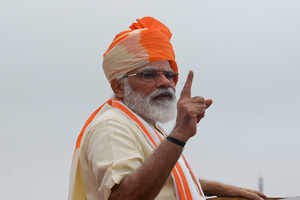 From LAC to LoC, our soldiers gave befitting reply: PM Modi
Amid border tensions with China, PM Modi on Saturday said that Indian soldiers gave a befitting reply to those who tried to pose a challenge to the country's sovereignty, be it at the Line of Actual Control or the Line of Control. Referring to the clash between Indian and Chinese troops in Ladakh, he said: "What our jawans can do, what the country can do, the world has seen."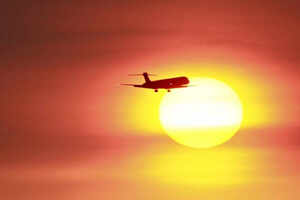 Baby born on flight in Alaska is named Sky by his mother
The mother of a baby born on an airplane that was taking her to a hospital in Anchorage has named her son Sky because of his unique birth and first experience. Chrystal Hicks gave birth to Sky Airon Hicks on August 5 around 1 am after boarding a plane to be flown from the small community of Glennallen to a hospital. She was 35 weeks pregnant.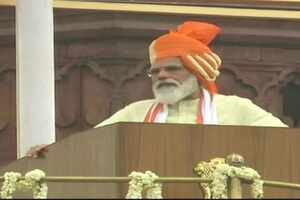 'Vocal for local should become mantra for every Indian': PM Modi
Prime Minister Narendra Modi on Saturday said that the mindset of free India should be 'vocal for local' to achieve the goal of 'Aatmanirbhar Bharat' (self-reliant India). "We should appreciate our local products, if we don't do this then our products will not get the opportunity to do better and will not get encouraged," he said while delivering his Independence Day speech.