Chennai: PIL seeks to reopen places of worship
Chennai: PIL seeks to reopen places of worship
TNN | May 10, 2020, 11:38 IST+1AA5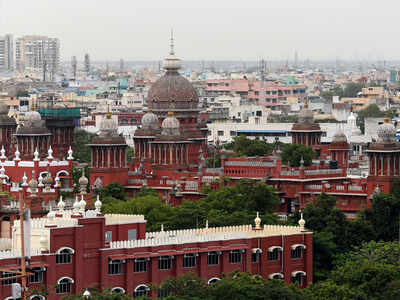 Madras high courtCHENNAI: A Chennai resident has moved the Madras high court to permit reopening of religious places of worship such as temples, churches and mosques, and allow people to offer prayers with adequate social distancing.
REMOVE ADSAccording to the petitioner, RK Jaleel, since most of the shops and offices were already allowed to function in non-containment zones, there should not be any difficulty for the government to open religious institutions for prayers.
The public interest writ petition is likely to be taken up for hearing on Monday by a division bench of the high court.
"Except the containment areas, most of the establishments and shops were allowed to open. Industries, individual shops, IT companies, and MSME's were allowed to open and conduct business," the petitioner said.
The petitioner further claimed that besides the financial burden caused by the Covid-19 outbreak and nationwide lockdown, the situation has caused mental distress to many. Opening temples and other religious places would help such people to get peace of mind by offering prayers to their respective gods.
This apart, this is the month of Ramadan, a holiest month of the year for Muslims, he added.
Therefore, he wanted the court to intervene in the matter and direct the state government to allow reopening of religious places and permit public to offer prayers by diligently following all Covid-19 guidelines such as physical distancing, wearing of masks, etc.
TRENDING NOW
LATEST COMMENTTemples,Mosques,Churches must be opened immediately atleast for the people residing near the place of worship.The psychological burden of the lockdown esp on the elderly,residing in cramped dwellings is of utmost concern.Entry into the place of worship can be restricted to a limited number of people at a time depending upon the inner area of the place of worship with help of volunteers and social distancing can be enforced easily. Time limit can be stipulated for each visitor.Many of the religious places have huge inner areas and they can bring peace and courage to the devotees esp the elderly.It is insane that when liquor shops could be opened Places of worship remain shut.ONLY GOD CAN SAVE OUR EARTH.DevrajREAD 5 COMMENTSADD COMMENT
QUICK LINKSCORONAVIRUSPANNEERSELVAMCORONAVIRUS INDIAMK STALINFLOODS IN CHENNAICHENNAI WEATHERCHENNAI RAINAIADMKDMKJALLIKATTU